Of all of the swing dances, Lindy Hop is probably the most famous.
Lindy Hop is a partner dance of African-American origin that emerged in New York towards the end of the 1920s. It combined movements of African dances with the structure of European dances. It was a phenomenon that transversed racial barriers in the early 1900s and as such bears incredible historical significance.
Here we're going to talk about the origins and idiosyncrasies of this infamous swing dance.
What is Lindy Hop
This swing dance emerged in Harlem, New York, towards the end of the 1920s.  During the golden era of swing, Lindy Hop was a huge phenomenon and played an important role in racial integration.
In the crowded Savoy Ballroom in Harlem, everyone danced together to the rhythms of swing, regardless of racial differences. By the 1940s, Lindy Hop had spread far and wide. It was predominantly a partner dance, made up of lots of different moves, some of which derived from other dances.
The origins of Lindy Hop
Lindy Hop originated within the African-American community of Harlem, which in the 1920s and 1930s was the principal multi-ethnic district of New York.  The  new dance spread rapidly over the following decades throughout the United States and beyond.
It is a partner dance that combines movements of African dances with the structure of European dances, and is regarded as a real cultural and interracial phenomenon.
Memories of the American ballrooms that hosted the great swing orchestras back in the day are well chronicled. Legend has it that during a dance marathon at the Manhattan Casino, Shorty George Snowden danced the Harlem style with a new 'break-out' variation, which he later called "The Lindy". This happened shortly after the celebrated Atlantic crossing of pioneer aviator Charles "Lindy" Lindbergh from New York to Paris in 1927.
From thereon in, Lindy Hop went from strength to strength. It grew in popularity with ever more contests and dances taking place. By the mid 1930s Lindy Hop was a roaring success and was danced in the crowded Savoy Ballroom in New York to the melodies of Count Basie and Chick Webb. It was around that time that in a stroke of entrepreneurial genius, ex-boxer Herbert White decided to form a dance troupe out of the best dancers on the floor.
This select group of talented dancers from the Savoy Ballroom prepared performances for concerts and films. In 1936, the best dancers performed for 6 months at the Cotton Club under the name of Whitey's Hopping Maniacs. Shortly afterwards White put together a second group called Whitey's Lindy Hoppers who achieved cinematic popularity in 1937 with the Hollywood film A day at the races, directed by Herbert's brother, Marx White.
Whitey's Lindy Hoppers became famous all over the world, and they made Lindy Hop famous thanks to their inimitable and unmistakable style immortalised in cinematic history.
How do you dance Lindy Hop?
But how do you actually dance Lindy Hop? Lindy Hop is essentially a partner dance; a couple is formed from two dancers, a leader and a follower. The dance combines improvised movements from African dances with the structure of European dances. One of the characteristics that makes this dance unique is that it follows both six and eight beat rhythm patterns.
The Basics
Lindy Hop is a social dance that has lots of opportunities for improvisation. When danced socially there is no choreography, and as such there is no set routine to the order of the moves that make up the dance. However usually a couple would begin in a relaxed closed hold position. A closed hold position in Lindy Hop sees the couple connect with the lead's right hand placed on the follower's back, and the follower's left hand placed on the lead's right shoulder. Extra connection can be made by the joining of the leader's left hand and the follower's right hand. Together, the couple form a 'V' shape with their bodies, i.e., neither directly face to face, nor side by side, but somewhere in the middle.
It is common for the dance to start with a change of weight. This is a step (usually backwards) immediately followed by a change of weight back to the other foot. The leader always begins (i.e. always steps) with the left foot, and the follower always begins (steps) with the right foot. This back and forth 'rocking' motion is made over the count of two beats and serves to generate directional energy for the successive steps.
The footwork for a six count basic is as follows: Step – step (or rock-step; beats 1 – 2), triple step (beats 3 – 4), triple step (beats 5 – 6).
The footwork for an eight count basic is as follows: Step, step (or rock-step; beats 1 – 2), triple step (beats 3 – 4), step – step (beats 5 – 6), triple step (beats 7 – 8).
A 'triple-step' is three steps that are made over the count of two beats.
The leader determines all moves, and the follower must interpret the leader's movements in order to follow the rhythms and steps. Posture is low and much more relaxed than traditional ballroom dances; knees are soft and slightly bent, and each step is accompanied by a small pulse or bounce. It is important to always spring downwards, working the balls of the feet, the ankles, and the knees.
Once a couple has mastered the rhythm and footwork patterns, both the leader and follower can add variations or embellishments to moves to make the dance even more interpretative and spontaneous. Dancers can also improvise movements individually in moments 'out of hold'. When danced to faster music, footwork is simplified to allow more fluid movements.
Lindy Hop moves
Lindy Hop is made up of numerous moves, aerials, and aspects that derive from other dances including the Charleston, Tap, Shag, and the Cakewalk. Some of the principal moves in Lindy Hop include the swing-out, the sugar push, and the tandem charleston, from which further variations are also derived. When performed, Lindy Hop can follow a routine or choreography that indicates a predefined sequence of steps. When danced socially however, the dance is led by the leader and interpreted by the follower, with plenty of opportunity for improvisation on both parts.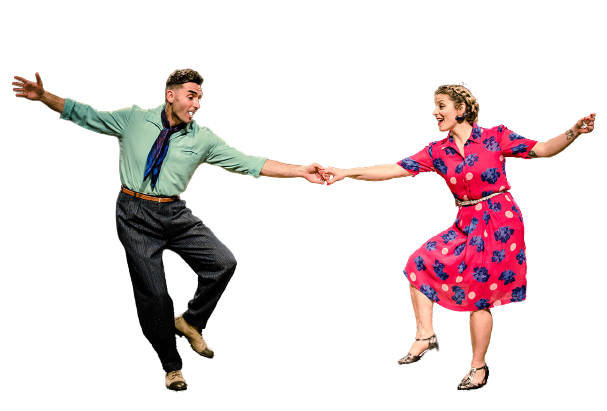 Take a look at our Dance Academy.
Start from scratch or reignite your passion for swing with internationally renowned teachers.
Lindy Hop and Swing music 
Lindy Hop is the king of the swing dances and incorporates many steps and moves from other dances including Shag, Tap, and Balboa. Lindy Hop can be danced to many types of music including R'n'B and Rock'n'Roll, however it is most commonly identified with the syncopated rhythms of Swing.
Examples of Swing music that is adapt to dancing Lindy Hop include pieces played by clarinet legend Benny Goodman, classics by the Glenn Miller Orchestra such as Little Brown Jug or Tuxedo Junction, the music of Count Basie, and even the later Swing music of Dean Martin and Frank Sinatra, for example the classic; Come Fly with Me.
How to dress: Lindy Hop attire
There is no dress code or special clothing required to dance Lindy Hop, but it is important that clothing is comfortable to allow ease of movement and aid agility.
As Lindy Hop originated between the twenties and thirties, if one wanted to dress to recall the historical context of the dance, there are plenty of Swing-era inspired outfits and accessories to choose from. Here are a few suggestions for potential Lindy Hop outfits.
Lindy Hop looks
Creating a Lindy Hop outfit for women is simple: a comfortable (but not too baggy) blouse can be worn with below the knee skirts, or pencil skirts as long as they don't restrict leg movement. Or alternatively with culottes, palazzo pants, or high-waisted trousers. Low waisted dresses recall the early Swing era, and high waisted dresses recall the latter half of the Swing era.
Headbands and turbans make ideal accessories to keep hair in order, or else 'up-do' hairstyles. It is recommended to use waterproof make-up.
For men, on the other hand, trousers and a shirt are just perfect, but the shoes make the real difference.
Lindy Hop footwear
Shoes with leather soles are ideal, shoes with too much grip can restrict movement. Two-tone coloured Derby or Oxford shoes are popular for men, shoes with a low heel are the most suitable for women.
Learning Lindy Hop
Courses for learning Lindy Hop are generally divided into levels to suit different learners. These would typically be; beginners, intermediate, and advanced.
Beginners level teaches the absolute basics, covering both 6 and 8 beat rhythm patterns and introducing simple moves and routines.
Intermediate level requires an awareness of the fundamentals of Lindy Hop such as the swing-out, lindy-circle, tuck-turn, inside-turn, outside-turn, change-of-place and the tandem charleston, and challenges learners to dance to faster tempos, focus on musicality, and tackle more complicated moves.
Advanced level invites learners to expand their repertoire, skills, and understanding of dance. Focus is given to connection, quality of movement, variations, styling, and how to insert personality and individuality into one's dance.
Famous Lindy Hoppers
Let's take a look at some of the most famous Lindy Hop dancers…
Whitey's Lindy Hoppers
Whitey's Lindy Hoppers made Lindy Hop history: this dance troupe performed in New York's finest ballrooms, appeared in Hollywood films, and became a point of reference in the collective imagination.
Frankie Manning
Frankie Manning, star of the Savoy Ballroom, is often considered the greatest Lindy Hop dancer, innovator, and choreographer in history. He invented Savoy Style Lindy Hop, an unmistakably personal style packed with variations and aerials.  His celebrated choreographies have been seen on the big screen many times.
Norma Miller
Norma Miller, otherwise known as the Queen of Swing, is an undisputed Lindy Hop icon and representative of Swing in Harlem in the 1930s.
Willa Mae Ricker
Willa Mae Ricker was a distinguished Lindy Hop and Jazz dancer and performer in the 1930s and 1940s. She was famously one of Whitey's Lindy Hoppers, and was also renowned for her dinstinctive sense of fashion.
Al Minns
Al Minns was another talented member of Whitey's Lindy Hoppers that was famed for his appearances on stage and in films in the 1930s and 1940s.
Dean Collins
Dean Collins is another important figure in the history of Lindy Hop; it is common belief that he introduced Lindy Hop to California when he moved there from New York in 1936. Collins appeared in countless films and productions over his dance career and is also credited with pioneering the Hollywood Style of Lindy Hop.
Jean Veloz
Jean is a living Lindy Hop legend. Born in the 1920s, Jean moved to Los Angeles in 1942 and by 1943 was making movies in Hollywood. She had memorable roles in the film Swing Fever and in the short Groovie Movie, and is an icon of the Hollywood style of Lindy Hop. Jean Veloz came out of retirement during the Lindy Hop revival in the 1990s and still makes appearances at international dance festivals today.
The list of prominent and important dancers in the history of Lindy Hop is long and illustrious, other names of note include Jewel McGowan, Irene Thomas, Lenny Smith, Leon James, Hal Takier, Gil Brady, and Arthur Walsh to name but a few.
Lindy Hop on film
Lindy Hop is both spectacular and captivating to watch, so it isn't surprising that it has always had a special bond with the cinema. In the 1930s and 1940s many films were enriched with Lindy Hop dance scenes.
Hellzapoppin
Lindy Hop's most famous moment on screen is undoubtedly in the 1941 film Hellzapoppin'. The dancers were part of Whitey's Lindy Hoppers, the original Savoy dance troupe.
The scene opens with musicians Slim Gaillard and Slam Stewart dressed as bell boys playing musical instruments hazarded upon backstage in a theatre. As others workers join the scene a jam session evolves and culminates in the the most famous Lindy Hop scene and routine in history with the arrival of Whitey's Lindy Hoppers who swing-out in style to the celebrated choreography of Frankie Manning.
Swing Kids
Swing Kids was released in 1993 but is set in 1930s Nazi Germany: it tells the story of a group of young Germans who are passionate about Swing music. They listen to records by Benny Goodman, Count Basie, and Django Reinhardt and go to underground prohibited dances where swing is symbolic of rebellion.
Malcolm X
In the 1992 film directed by Spike Lee, Denzel Washington plays the famous African American activist Malcolm X. In one particular scene set in a Ballroom in Harlem, the actor portraying Lionel Hampton plays the opening notes of Flying Home and the dance floor floods with Lindy Hoppers featuring Frankie Manning himself (who also acted as a consultant for the scene) and several references to other famous Lindy Hoppers of the day.
Other films with memorable Lindy Hop scenes include After Seben, Swing Fever, A Day at the Races, Buck Privates, Groovie Movie and Rock Around the Clock.
Closing thoughts
Dances like Lindy Hop are more relevant than ever today thanks to the Summer Jamboree, the International Festival of 40s and 50s American Music and Culture, and it's Dance Academy.
If you too want to learn "vintage style" dances, take a look at our Dance Academy. Start from scratch or reignite your passion for these dances with internationally renowned teachers.